It was recommended by one member in the
Underwater Drones, ROV, Scooter Facebook Group
that the
Tripletek Pro tablet
is one of the best brightest tablet to use on those really sunny days when controlling the Fifish V6 underwater drone. Ya know here in the states everyone always buys an
Apple Ipad
, but is this the type of weak LCD screen you want controlling your Fifish V6 underwater drone? Maybe not, since the Tripletek Pro tablet has 1200 nits of screen brightness, making it a game changer for those really sunny days.
I know from experience, every time I go out for a dive, I have to use a blanket over my head in order to see the fish in a distance on my Apple Ipad tablet. Simple and easy way to cut out the sun glare, but then again, when I'm using my Chasing M2 out on the boat, I get worried about boats buzzing bye and cutting my tether with their props. Just something to think about, you can always buy a quality
sun visor
instead, but then again, if the wind hits the visor, it may blow around your controller on those windy days making controlling your underwater drone very unsteady. A lot to think about...
Considering have a brighter LCD screen on the Tripletek Pro could definitely drain the battery inside the tablet, having a powerbank constantly hooked up to your tablet is a must. Everytime I using my Chasing M2 I have an
Anker Powerbank
taped up underneath my controller, running the usb cord to my tablet at all times. Anker is one of the more premiere brands of powerbanks on the market.
Then there's the option of using
DJI VR Goggles
or using a
custom VR Headset
that allows you to slide in your cell phone.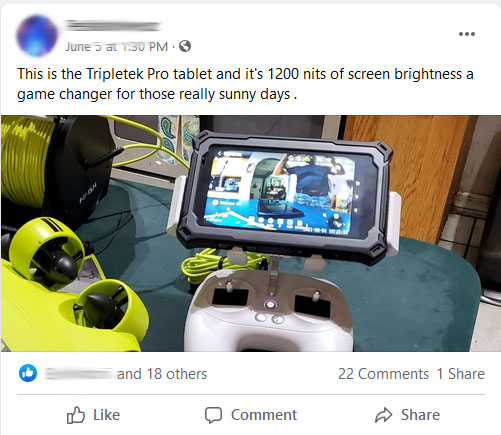 Last edited: